That Gift For Every Home  
Often times we get stuck when it comes to getting a little gift for that someone who we feel has everything. We all know that feeling when we run out of ideas as to what to give, we don't want to over-gift, we may just want to say thank you or we may well not really know that persons style. Well let me introduce you to our creature tins range which may well get you out of a pickle!
Treat Tins for All Creatures Great & Small
If you think about it so many people have pets & as a pet owner I can admit to going soft & soppy when anyone gift's me a pet related gift. This range of enamel ware tins offers something for most pet owners , The Rabble dog tin has a motley crew of canines looking for treats whilst Doris the cool cat has a more refined feline coolness to her, as is often the case with the cat!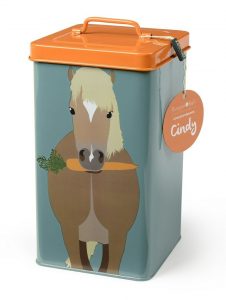 Every little girl or boy who ever wanted a pony falls head over heels for the adorable Cindy , the cutest Palomino pony looking for carrots. This will brighten any kitchen counter & can be used for a myriad of other uses. 
For The Birds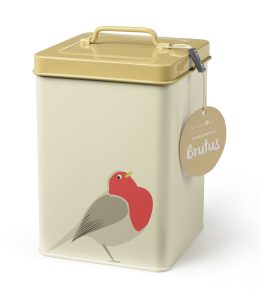 Not to forget of course the bird lovers, so many people have bags of peanuts on kitchen & utility counter tops to feed our feathered friends at this time of year. Well this handsome tin featuring Brutus the red breasted Robin will tidy up all bird seed & nut treats
Of course these tins could also be the perfect home for hide you favourite biscuits in. Nobody will ever suspect your tasty stash hidden in them so pets of no pets you have no excuses not to have one.
Slán tamall,
Gráinne