When I moved shop 2 years ago I was nervous that I would lose the magic of what I had created in my old shop. On the first day that I opened the new shop at the Mail Road a group of regular customers walked in, drew a breath & said 'Oh, this smells like The Coach House!' The relief I felt was immeasurable & that smell they referred to was the wonderful scents of La Bougie, the candle & diffuser range created by Lucy Hagerty in her Cork perfumery.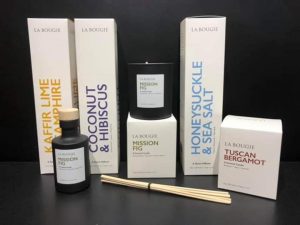 Last winter La Bougie underwent a makeover & rebrand, some fragrances were changes & some new creations were launched. The results are magnificent, the new scents have us in a tizzy as we cannot quite decide which fragrances are winning us over. The packaging has also been sensibly reduced as we are all attempting to make an effort to reduce our waste & the new branding is sleek & exquisite. The diffuser reeds are now back to the natural reeds so it's a win win for the environment.
I have been a Sage & Bitter orange die hard since I first discovered it 5 years ago, it's my go to at home & takes care of the wonderful scent of a wet Springer Spaniel. However, Kaffir Lime & Samphire with it's notes of lime leaves, lavender & marsh Samphire are winning me over, it's so fresh & clean & will be put to wet Springer Spaniel test next.
Thankfully Mission Fig which has such a cult following is back as before, no need to change perfection. It is a fragrance that I end up posting to visitors who purchased it from me on holiday, far flung candles from Cork bringing the mesmerising fragrance to all corners of the earth!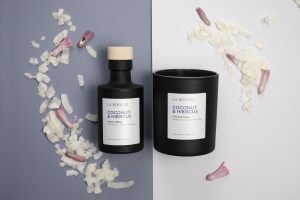 Another fresh & sweet addition to the range is Coconut & Hibiscus with notes of Salted Coconut, Jasmine & Ylang Ylang, so fresh & clean. Fans of the former Ginger & Black Pepper fragrance will be delighted to hear it is back with a little added spice in the form of Tuberose & Black Pepper, a blend of tuberose, wood & spice that brings warmth & depth in abundance.
Tuscan Bergamot has been burning in the shop counter since I reopened & it's gentle notes of sage, lavender & bergamot have added a soft clean air to the shop, for those who like a gentler fragrance to linger in the background this is the one, it smells as good as it sounds.
As always, it's good housekeeping to turn your reeds weekly in your diffuser to keep the fragrance strong & always trim your candle wick before burning. This ensures an even burn & it's always advisable to burn for a max of 6 hours at a time.
If you have never had a La Bougie product you do not know what you are missing. It's no wonder that over the 5 years I am open I have die hard La Bougie fans that travel to Dingle for their fix & to stock up.
 Gráinne