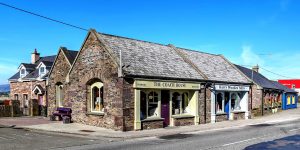 After two months at The Mail Road I finally feel that The Coach House is beginning to settle well into its new corner of Dingle. There have been many changes in the new shop, being a smaller space means that the look of the new shop changes more often as I am not a believer in buying bulk quantities of items. This of course keeps the pieces unique & means that each time customer visit they get to see & enjoy new stock.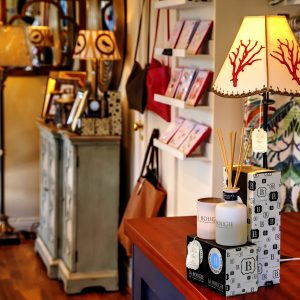 I was nervous upon opening that my customers would not like the new shop as much as they loved the old, on the first day I opened three of my regular customers visited & their first comment was that the shop smelled just like the 'old Coach House', a big sigh of relief ensued from me. Only such a superb product as La Bougie can guarantee such a scent & of course the candles & diffusers sold out twice, they really are the gift of choice.
Customers are delighted with the new collection from MoMuse, the new pieces as popular as ever & it gives me great pleasure to help customers choose from Margaret's collection of gold pieces, as elegant as they are delicate & beautiful. The Special Branch of course was installed again in the new shop, I picked it from the garden of the old shop a week before I opened it as I didn't have a jewellery display case, needs must.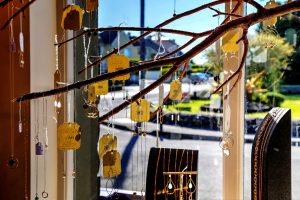 Ceramics have proved to be a big hit at the new shop, two talented Irish ladies Sarah Mc Kenna & Lynda Gault have sold out also, Lynda is busy making again for us & Sarah is back in stock, her 'Nil aon tintean mar do tintean fein' have been as big hit with visitors from every corner of the globe.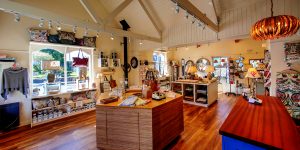 The most admired piece in the new shop is by far the magnificent hexagonal display piece that graces the front of the shop. This piece was made by my exceptionally talented better half Derek Fallon, a Roscommon man in exile in Kerry who will hopefully unleash his furniture making excellence on the Kingdom & beyond. As it's an Irish made piece I have decided to display only Irish made products on it, Kinsale Leather, Mc Nutts, Sarah Mc Kenna, MoMuse, Lynda Gault, Jenny Mc Carthy & Elaine Madigan grace it perfectly, something I am very proud of.
Thank you to everyone who came along to our opening night, we had such fun with Lucy of La Bougie for our prosecco & perfume evening, the perfume proved such a big hit that we have decided due to demand to have it in the shop very soon. Thank you also to the Dingle Cookery School & to the Dingle Distillery for spoiling us, the next party is being planned for the end of the season, I do have my priorities in order as you all know!
Gráinne